I recycled a bunch of t-shirts last weekend into yarn and wondered if people bought and sold these as well. And here's what I found on Etsy today! T-Shirt yarn! Who knew right? Here're the
details
.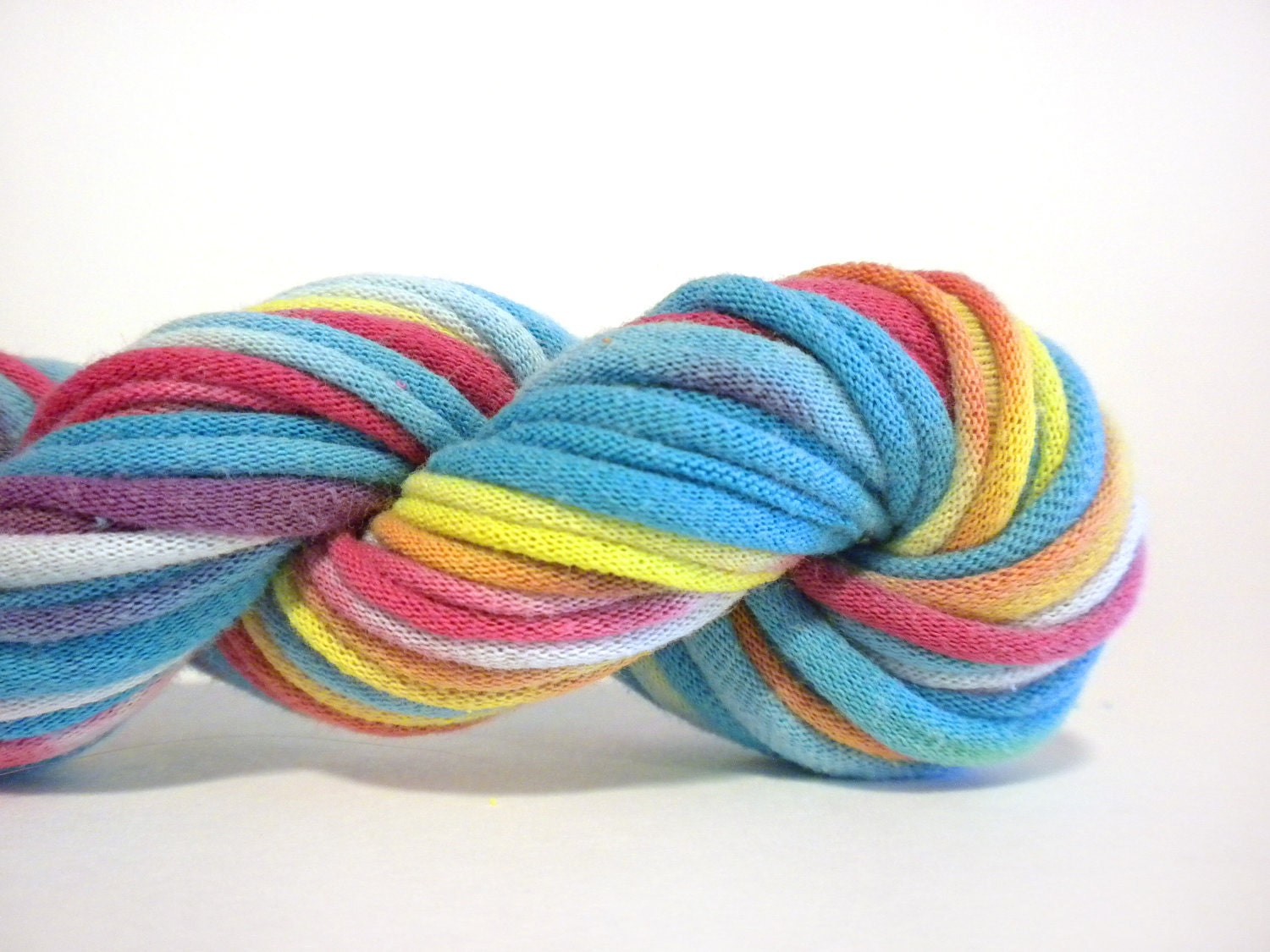 Here're pictures of the t-shirt yarn I made over the weekend. Nowhere near as beautiful as
Sarah's
(the store owner of the yarn above). Here's a step by step tute on how to make your own t-shirt yarn.
The basic idea is to cut your t-shirt into one long strip starting at one end, going spirally. That seems complicated right? Here's an easy way to do that.
First cut off the sleeves and the top portion. Still have to figure out what to do with that portion. You could cut that into strips too and join it while creating your rug.
Then fold the t-shirt length wise with an inch or so of the lower fold visible. I've also cut off the bottom hem line. You could keep it if you like.
Cut 1 inch strips starting from the right to the left all the way to the end of the top half, leaving the 1 inch of the lower fold uncut.
Open out the t-shirt so you have strips to the top and the bottom with the 1inch that you left uncut in between.
Now to get the spirally cut effect, cut like so. Cut from the right side of each strip at the bottom to the right side of the next strip at the top (that's important) until you finish with all the strips and there you have it one long strip of t-shirt.
That looks like this.
Now hold a short length between both your hands with your thumbs in the center of the strip and stretch for the strip to roll up like this. That's it.
Wind it into a ball or a skein and it's ready to knit, crochet or whatever you want.
Now tell me what would you make with this yarn other than a rug? A pot holder maybe?